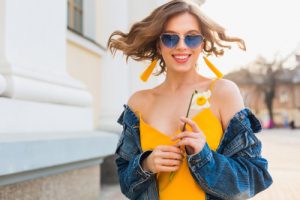 There are benefits to getting braces anytime of year, but there's just something about summer that screams: Let's do this thing! If you're skeptical, be open-minded. Summer is its own unique time of year, different than all the other months. Braces fit neatly into that pocket of time.
1. There is more time to deal with braces.
Summer means downtime, even if kids are busy with camps and jobs and adults are busy with work. These months of warmth and happiness and freedom from school and a handful of responsibilities offer room to take on a new venture. Braces can be it.
Because you have all that sweet time, because you have vacations and staycations, it will be easier to make appointments with your orthodontist and fit them into your schedule, whether we're talking braces for kids, braces for teens, or braces for adults.
2. There is room to adjust to aligners or wires and brackets.
Braces mean learning to live with foreign objects on your teeth. Summer means being able to work out the kinks without the usual distractions.
If you're an Invisalign or Invisalign Teen patient, you'll be wearing clear aligners that snap onto your teeth. You'll have to get used to the feel of the aligners in your mouth for 20+ hours a day, practice clicking the aligners in place and taking them out for meals and cleaning, and adjust to your new look.
If you're wearing conventional braces, you won't have the option to remove any of the hardware at any time like with Invisalign, a fact some people embrace. That does mean you're living with the pokes and prods of brackets and wires and the important job of meticulously cleaning around your braces to keep your teeth and hardware in good shape.
No matter what kind of orthodontic treatment you begin in summer, there will be an adjustment period for how the braces feel. Whether metal braces, ceramic braces, or Invisalign, you will experience discomfort as your teeth begin to shift and your mouth gets used to the new normal. This feeling will improve, but being able to lay back and deal with the inconvenience during summer makes the task much easier to tolerate.
3. It's easier to live with diet changes.
All braces come with some sort of food restriction. For Invisalign-wearers, you can still eat whatever you want, you just can't eat any of it while your aligners are in place. Leaving the clear aligners in your mouth during a meal or while having a beverage makes it more likely that the braces will become stained or break.
For wearers of conventional braces, you will be limited in the chewy, crunchy, and hard foods you can eat. Brackets and wires simply cannot handle popcorn, gum, fruit snacks, and the like. Eating these things means you risk breaking a piece of the braces.
Summertime gives you room to adjust to new diet restrictions, to find ways to replace the foods you love with something similar but braces-friendly, and to enjoy a lot of cold, soothing ice cream.
Get Straight Teeth This Summer
If you are ready to talk braces for yourself or your kids, contact your Woodinville orthodontist, Dr. Soleil, to learn more about interceptive braces, braces for teens, and braces for adults. There is no better time than the present to get a healthier smile.