Choose Invisalign: The Discreet Way for Adults and Teens to Straighten Their Teeth
When you want straight teeth and a beautiful smile, but you don't want to wear conventional metal braces, Invisalign could be the ideal solution. Invisalign straightens teeth discreetly and efficiently and is available for both adults and teens at Soleil Orthodontics in Woodinville, Washington.
Invisalign for Adults
The last thing adults want to do is be catapulted back to junior high when every other peer had some sort of obvious orthodontic treatment. Invisalign is an effective and proven way to achieve straight teeth without letting anyone know that you're undergoing orthodontic treatment.
Invisalign won't interrupt your professional life, social life, or love life because no one will know you're wearing Invisalign unless you tell them. Invisalign works effectively and begins noticeably changing your smile so quickly that you'll enjoy the beauty of quick results and be motivated to continue with the treatment as instructed.
Straight teeth are a confidence booster, especially for the adults who have long been embarrassed about the condition of their smile. Invisalign makes it possible for you to feel good about speaking up, speaking out, smiling big, and laughing heartily.
Invisalign for Teens
Braces may be a rite of passage for many teens, but that doesn't mean orthodontics are destined to be a miserable experience. Invisalign is a powerful method of aligning teeth and, for self-conscious tweens and teens, may be a far friendlier alternative to traditional metal braces.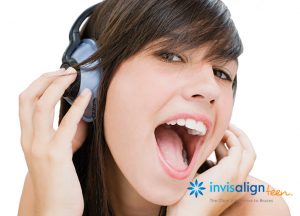 Invisalign eligibility for teens is the same as for adults – it depends on the type of alignment problems and what will be the most effective treatment. If any parents are concerned about their teen's ability to follow the treatment appropriately, the makers of Invisalign have noted that teens have proven to be more reliable than adults when it comes to wearing their aligners as indicated.
There are special "wear indicators" for Invisalign Teen, which are small blue dots on each aligner. Over time, the indicators fade if the aligner is worn correctly.
Teens who wear Invisalign enjoy a self-esteem boost rather than a hit to their confidence. They're pursuing an aligned smile, which makes them look better every day, and they're happy that they don't have to endure the stigma that conventional metal braces can carry.
How Does Invisalign Work?
Invisalign's nearly invisible aligners may seem too good to be true, but they're not. The methodology is innovative, sophisticated, and carefully plotted to move teeth into their proper positions. Invisalign is a customized orthodontic treatment that:
Shifts teeth and bite slowly but firmly.
Moves only a few teeth at a time, hence the changing aligners every few weeks so new teeth can be targeted.
Moves tooth and tooth root at simultaneously.
Makes use of attachments, where necessary, to help aligners fit more snugly against the teeth.
The work of Invisalign is complex and precisely designed, but it takes a fraction of the time to complete the treatment than conventional braces, with the average time being around 12 months. This period will vary depending on the position of your teeth now, the speed at which your teeth shift, and how carefully you follow the rules of Invisalign.
Patient Duties During Invisalign Treatment
There is a great deal of freedom in wearing Invisalign, but there are also responsibilities that must be upheld. Your treatment is only as successful as your dedication to it. Invisalign rules are as follows:
Wear aligners 20 to 22 hours a day, every day, no exceptions.
Remove aligners for all meals and snacks.
Drink only water while Invisalign is in place to avoid stains.
Clean aligners daily to keep them clear and free of odors.
Change aligners as indicated.
One of the most important rules when it comes to Invisalign, and all types of orthodontia, is to wear your retainer once treatment is complete. Invisalign moves teeth into alignment, but a retainer solidifies their position. You don't want your hard work and investment to go to waste because you don't like the idea of a retainer. There are various options, including permanent retainers, that discreetly keep teeth where they belong.
Are You a Good Candidate for Invisalign?
At Soleil Orthodontics, Dr. Soleil Roberts will evaluate your bite and teeth to determine whether you are a good candidate for Invisalign. This visit will also include a full demonstration of how Invisalign works and a simulation of your unique Invisalign treatment using digital models. You can see just how Invisalign will change your mouth – and being able to visualize your life with a straight smile is exhilarating!
Invisalign is designed to correct crossbites, overbites, underbites, open bites, crowded teeth, and gapped teeth. With a straight smile you will not only have a comfortable and fully functional bite, your teeth will be healthier for it.
What are some different between braces and Invisalign?
Dr. Soleil Roberts is a certified Invisalign provider with extensive experience in fitting patients with Invisalign. Make your appointment at Soleil Orthodontics today to find out whether Invisalign will work for you.  The practice offers Invisalign in Bothell and Invisalign in Monroe.  Don't hesitate to call. We'd love to hear from you.  If your looking for Woodinville Orthodontics or Orthodontist near me – give us a call.  We offer extended hours and flexible payment plans.