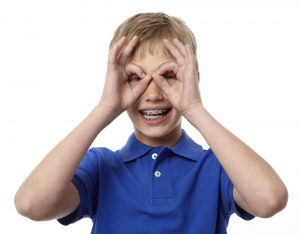 First Visit – What Age?
7 is the magic number when considering braces for kids! Many people think the full permanent dentition is required for braces, however, there are good reasons why children should get an orthodontic evaluation much sooner. The American Association of 
Orthodontists recommends a check-up with an orthodontist no later than age 7. Since patients differ in both physiological development and treatment needs, the orthodontist's goal is to provide each patient with the most appropriate treatment at the most appropriate time. Many young patients in our office are placed on a 6 or 12-month recall if there are no growth or developmental concerns during the mixed dentition stage. If, however, we determine that the patient would benefit from "interceptive" or early treatment, we may recommend a limited first phase of early orthodontic treatment which generally lasts less than one year.
Why Dr. Soleil likes to see kids around age 7:
Early orthodontic evaluation may reveal subtle problems with jaw growth and the developing permanent teeth that can be resolved with minimal treatment.
Early treatment may prevent more serious problems and may make treatment at a later age shorter and less complicated.
In some cases, we will be able to achieve results that may not be possible to achieve once the face and jaws have finished growing.
Early treatment gives us the chance to guide jaw growth, lower the risk of trauma to protruded front teeth, correct harmful oral habits, improve appearance during childhood, guide permanent teeth into a more favorable position, or i
mprove the way lips meet for speech improvement.
Sleep and airway concerns, including nasal congestion and asthma, may be addressed with early orthodontic treatment.
Contact Dr. Soleil if you're interested to learn more about braces for kids.