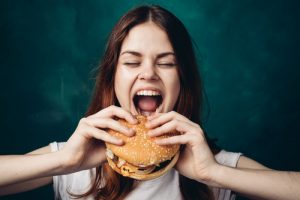 To many orthodontic patients, Invisalign spells freedom from the restrictions that come along with the brackets and wires of traditional braces. Certainly, when it comes to food, the rules are fast and loose – you can eat whatever you want, whenever you want, as long as you are careful about how you treat your aligners.
1. Always remove Invisalign before you eat.
Invisalign is powerful. The aligners are strong and move teeth into their new positions, carefully and methodically, one by one. The aligners are not intended, however, to withstand the pressure of biting and chewing. The appliances must always be removed before you eat anything, whether a tiny snack or a big meal. Otherwise, you risk breaking the aligners and interrupting your treatment.
2. Water only.
Invisalign aligners are clear and practically invisible on the teeth. This fact is a big part of the appeal of the treatment. For the appliances to stay clear, they must not be compromised by food or colored beverages. If you eat or drink anything but water while Invisalign is in place, you run the risk of discoloring the aligners. And that kind of defeats the purpose of a discreet and unnoticeable orthodontic treatment. Save the colas and wine and coffee for meal time.
3. Don't be tempted.
You will be tempted to "just have a bite" or "just have a little sip" with Invisalign in place. Eating or drinking with the aligners in your mouth is dangerous – they can easily be broken or stained with "just one" anything. While it can be a pain to snap Invisalign in and out of your mouth every time you want to eat something, navigating attachments and discomfort, it's necessary to remove the aligners to maintain their integrity.
What many patients benefit from is the opportunity to think twice about what they plan to eat – do they really want that snack? Do they really need that second cup of coffee? Weight loss, for some people, is a welcome side effect of wearing Invisalign.
4. Brush and floss.
Whenever you remove Invisalign for a meal, the aligners should be stored securely in their case to protect them. Once you're finished eating, brush and floss your teeth before snapping the aligners back in place.
Invisalign is designed to fit snugly on the teeth – any bacteria or food particles that are lingering on or in between teeth will be hugged to tooth enamel and increase the risk of decay. Brushing and flossing only takes minutes. Your teeth will be cleaner and healthier for it, and Invisalign treatment will continue as intended, without cavities.
5. Enjoy.
When you wear Invisalign, you can continue to eat all the foods you love. You don't have the limitations that wearers of conventional braces do, a perk for wearers of both Invisalign Teen and Invisalign for adults. If you love chewy foods or crunchy foods, from popcorn to pizza crust to gummy candy, you can have all of it – as long as you remove Invisalign first. If there is one thing you won't have to worry about with Invisalign, it's changing your diet.
Wondering if you're a good candidate for invisible braces? Contact your Woodinville orthodontist and Invisalign provider, Dr. Soleil, to find out.