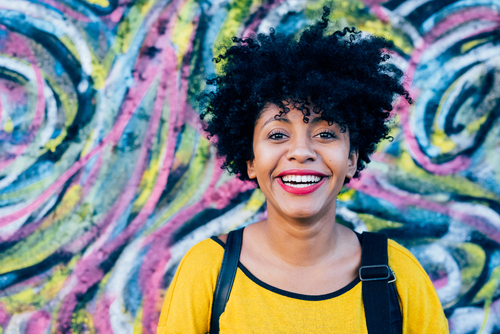 Anyone who has ever had Invisalign treatment knows the many benefits of this orthodontia, from the discreet aligners to the minimal restrictions. People who are on the fence about investing in clear aligners, however, sometimes take convincing. Here are some of the many reasons to be thankful for Invisalign for adults and Invisalign Teen.
1. You Get a Sneak Peek of Your New Smile
Before Invisalign treatment even begins, your orthodontist can reveal what your new smile will look like. Digital 3D technology delivers a visual of your teeth as they shift throughout treatment – seeing the result is motivating when you realize just how soon can have an incredible new smile.
2. It's Easier to Break Unwanted Habits
Even though you have every freedom to eat whatever you want while undergoing Invisalign treatment (if you remove the trays first), this is a good time to break unwanted habits that have been detrimental to your smile or health.
Since you can only drink water when wearing Invisalign, coffee and soda breaks must be minimized unless you want to remove your trays multiple times a day (most people prefer to avoid this) or otherwise end up with stained and smelly aligners. Invisalign for adults helps you stay on track.
3. You Know Exactly What to Expect
Orthodontics are straightforward. Even people who wear conventional braces know their checkups will include changing rubber bands and archwires every time. Invisalign wearers also know what to expect – wearing a set of trays for two weeks, changing them out for new trays, visiting the orthodontist regularly for a review and to collect new trays. A routine is a great thing when it comes to the orthodontics you choose.
4. Take the Opportunity to Transform Self-Esteem
Tweens and teens have it difficult enough at their ages, struggling to figure themselves out and the weird adults around them. One thing they don't want to do is draw negative attention, and Invisalign Teen is a massive help in that department.
Instead of conventional metal braces that are quite noticeable, many adolescents qualify for Invisalign. They are highly motivated by the nearly invisible treatment which encourages them to follow the rules and get their smiles on the straight path. Self-esteem will rise with every changing tray that makes their teeth look better and better.
5. Go Ahead and Kickstart Your Diet
If you want to eat less or make better choices about snacking, Invisalign can be a major help. Invisalign wearers are free to eat whatever they want whenever they want. However, removing the trays all the time can be cumbersome or unpleasant for those whose teeth are sensitive from the movement. As a result, patients focus on getting their calories during healthy mealtimes and say no to snack indulgences.
Are You a Good Invisalign Candidate?
Get straight teeth that are easier to care for in just about a year with Invisalign treatment. This innovative method moves a few teeth at a time until your entire smile is in alignment – by this time next Thanksgiving, your smile will look completely different. That's something to be thankful for. Find out if you're a good Invisalign candidate. Schedule a consultation with Dr. Soleil and her team at Soleil Orthodontics in Woodinville, WA.