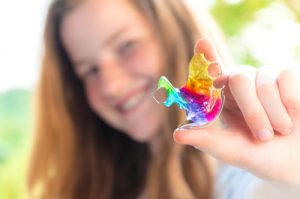 It's one of the most common questions orthodontists hear: Do I really have to wear a retainer? The answer is a hard yes. Yes, all day long. Unequivocally, yes. Most orthodontic patients spend at least a year or two getting their teeth into alignment. If you want to keep your teeth straight and beautiful, you'll be up close and personal with a retainer for a long time to come.
The Logic
You wouldn't exercise for years to lose weight, get in shape, and be toned and fit only to suddenly quit and let your hard work slowly fade away. That's how teeth work too. You've spent time, money, and effort to straighten teeth – you don't stop straightening just because the "official" braces portion of the exercise is over. Retainers are part of orthodontic treatment, and they play a major role in maintaining that straight smile you worked so hard to achieve.
The Reality
You may think you'll be that one lucky braces patient or Invisalign patient who hears the sentence: Nah, retainers aren't necessary for you. But that isn't going to happen. Simply enough, retainers are backup – they keep your teeth in total alignment, and that's a crucial job. Whether you went through adult braces treatment or teen braces or Invisalign for teens or adults, the postscript is the same: You need a retainer. Refuse to wear your retainer at your own risk – because your teeth will drift back to where they once were (out of alignment) if you fail to follow your orthodontist's instructions.
The Wear
Some orthodontic patients must wear their retainer around the clock after their brackets and wires have been removed or after their Invisalign treatment is complete. This is the typical post-braces order and, depending on how your teeth behave, is an instruction that typically fades away in favor of bedtime wear only. That's not so bad, right? Pop in your retainer before you go to sleep and have sweet dreams about your straight and gorgeous teeth.
The Options
All retainers are not the same. You can get a retainer that is easy to snap in place and easy to remove. This is the common appliance for a lot of braces-wearers. Some patients, however, are interested in permanent retainers that are bonded to the backs of their teeth for constant reinforcement of the alignment that braces already worked very hard to achieve. Your Woodinville orthodontist will discuss all viable options with you.
The Fun
If you must continue to wear an orthodontic appliance on your teeth – even if it's only at bedtime – why not own it? Put your personality into your retainer by choosing a fun color or silly design to make it at least more interesting to pop that thing in and out every day. Even grown-ups can enjoy this element of orthodontia.
Ready to get on the road to a flawless, straight smile? Make an appointment with your Woodinville, Washington orthodontist Dr. Soleil Roberts to talk about retainers, other appliances, braces, and Invisalign for adults and kids.