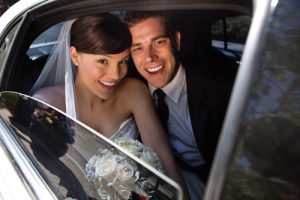 There are plenty of things on your to-do list when you're getting married, many of which are about self-improvement. But along with diets and workout regimens, don't forget about the one feature that will be front and center on your wedding day – your smile! If your teeth aren't perfect, Invisalign for adults can get them there before you say your vows.
Keep Planning without Interruption
The great beauty of Invisalign for adults is that the trays are discreet. They are slim, clear, and fit snugly against your teeth so they are hardly noticeable. Even if you're out looking at venues, meeting with photographers and florists, or trying on gowns, Invisalign won't get in the way.
It's easy to manage those tastings with caterers and pastry chefs too. Just pop Invisalign out to taste-test your favorite dishes and flavors. There are no food restrictions when it comes to this alignment method. Just remember to clean your teeth and aligners before joining them together again.
A Steadily Improving Smile
Invisalign treatment plans are designed to move a few teeth at a time. That's why trays are changed out every few weeks – to address a few new teeth and shift them into their proper alignment. In just a few weeks of wear, you will begin to notice a difference in the appearance of your teeth and, after a few months, your smile will be much improved.
The benefits of making this change during wedding planning? Especially if you have a long lead time, your smile will be on point for every major event, from engagement photos to engagement parties to bachelor and bachelorette parties.
Unintended Perks
Though there are no eating restrictions for Invisalign wearers, there is sometimes an unintended side effect of getting used to this alignment method: weight loss. And for many brides and grooms, this is a welcome side effect.
Because you can only eat or drink when you have removed Invisalign trays, you are more likely to think twice before you take out the aligners for every single snack that tempts you. Instead of snacking all day or sipping on soda all day, these habits will be a thing of the past. And you could see your calorie intake and waistline change.
Alternatives to Invisalign
If you aren't a good candidate for Invisalign but you still want to straighten your teeth before you get married, don't despair. It is possible to align your smile in time for your wedding without drawing much attention to your orthodontic treatment.
Clear ceramic braces are always an option, and they're especially viable as an option if your wedding is at least a year or more in the future. Tooth-colored to blend into your smile, this orthodontic treatment is powerful and effective. Sure, there are restrictions when it comes to the foods you can eat, but if the result is a gorgeous smile for your wedding day photos, it's worth it.
Contact Soleil Orthodontics to schedule a consultation and learn more about the braces that are right for you.