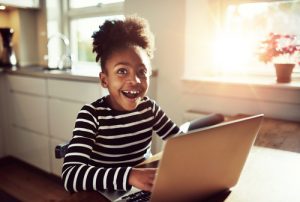 Some kids love the idea of getting braces. They want to be ahead of their peers and get adolescence rolling. Other kids are nervous about the thought of anything being in their mouth. They are happy to wait and avoid more trips to the dentist. Whichever camp your household falls into, preparing your child for early orthodontic treatment with honest, sparse conversation is all you need to do to get them ready for what's ahead – leave the rest to your experienced orthodontist.
The First Appointment
Around age 8, or a little sooner or a little later depending on your kid's mouth, your pediatric dentist will likely recommend that your child see an orthodontist. That first orthodontic appointment is a consultation to determine where your child's teeth are now, where they need to move, and the best time to make that happen.
Interceptive orthodontics, also known as Phase 1 orthodontics, correct alignment problems that are obvious right now, such as:
Overbite
Underbite
Crowding
Protruding front teeth
Thumb sucking habit
Difficulty biting
Trouble chewing
Mouth breathing
Jaw deformity
You may be convinced that braces for kids are necessary because your child has a mouth full of wonky-looking teeth, but that isn't an indicator that braces are inevitable. Your child's mouth is growing all the time, so it is possible that their teeth may begin to find their way into alignment and you may avoid early orthodontics. Allow your orthodontist to decide so you don't have to worry.
Why Braces?
If your orthodontist decides that early braces are the right call, you'll review all the recommended options so you can make decisions about treatment.
At a young age, a child's jaw is still growing and teeth are still developing. This means some conditions, particularly overbites or crowding, may be easier to address now instead of waiting until adolescence. Your orthodontist can identify subtle issues with jaw growth that can be easily improved and sometimes even corrected with the right kind of appliance. The right kind of early treatment can help make braces easier later.
The Logistics
Not every orthodontic problem qualifies a child for early treatment like braces or expanders. Those who do receive early treatment, however, can often enjoy a less complex or shorter round of orthodontics come the teen years.
Interceptive orthodontics is a limited first phase of treatment. It usually lasts less than a year and can include the use of many different types of appliances, from upper braces to a space maintainer to a tongue crib. Addressing bite and alignment problems early can significantly reduce the intensity of orthodontic treatment later.
Ultimately, that initial orthodontic consultation around age 8 will be the determining factor in whether your child is recommended for early orthodontic treatment. From there, you will begin the braces journey or wait another year or two for a follow-up evaluation. Contact your Woodinville orthodontist, Dr. Soleil, to talk about braces for your child.