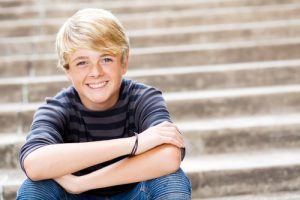 Braces have always been considered a rite of passage for many teenagers, but this accessory often impacts self-confidence, something that's already a challenge for most teens. With the popularity of Invisalign, it's no surprise that many adolescents who need orthodontics hope to qualify for Invisalign Teen, avoid metal brackets and wires, and slide under the radar with their orthodontic treatment. But is Invisalign right for your teenager?
Qualifying for Invisalign Teen
The biggest appeal of Invisalign, for every age group, is that it is less conspicuous than braces. Most of the time, the teenage demographic seems to relish fitting in and the last thing they want is something bulky and distracting on their teeth to draw attention and make them feel awkward. So they hope they will qualify for Invisalign. And that's where the journey begins.
While there are many types of braces available – metal, clear, and Invisalign – not every patient qualifies for each type of orthodontics. The kind of misalignment they have will impact what treatment is best for their oral health. Invisalign Teen can correct nearly every type of misalignment that traditional braces can, but some cases are more complex than others, which can eliminate Invisalign as an option.
For parents who are thinking ahead, ensuring that your child sees an orthodontist around age 7 or 8 will allow for the diagnosis and treatment of early oral health development problems using interceptive orthodontics. Appliances like spacers or expanders can help minimize the need for more intensive orthodontics later – and may make your child a better candidate for Invisalign Teen when the time comes for full braces.
The Pros of Invisalign Teen
The benefits of Invisalign are many, and if your adolescent has done any research into braces for teens, they're already aware of them.
Discreet: Clear and difficult to see, Invisalign Teen lets your teen smile and speak without any measure of dental-related self-consciousness.
No food restrictions: No teenager wants to be limited when it comes to eating their favorite comfort foods. Since Invisalign is removed for every meal and snack, they can eat anything they want – no restrictions.
Easy to clean: No special tools are needed to pick in and around Invisalign like wearers of brackets and wires must have. Brush and floss teeth normally and clean the trays as directed by your orthodontist to keep them clean, clear, and odor-free.
Comfortable: Invisible trays use slower, gentler movements than braces, which minimizes discomfort. They are also smooth, so no chance of lips and cheeks getting caught on a rogue wire or sharp bracket.
Figuring Out If Your Teen Is Right for Invisalign
It's natural for parents to worry about their teen's compliance with all the rules of wearing Invisalign. The trays must be in the mouth 20 to 22 hours a day, and they must be taken care of in between. Every aligner comes with a compliance indicator that let your orthodontist know your teen is wearing their aligners as often as they're supposed to, and Invisalign Teen does have a few spare aligners built into the treatment plan if one should be lost or damaged.
However, you know your teen best. Can you trust that they will be disciplined and committed to all the rules of their treatment? Most teenagers perform quite well with Invisalign – they're grateful to have the option and do not want to squander it.
Talk to your Woodinville orthodontist about Invisalign Teen and whether it's right for your child. Schedule a consultation with Dr. Soleil Roberts at Soleil Orthodontics in Woodinville.