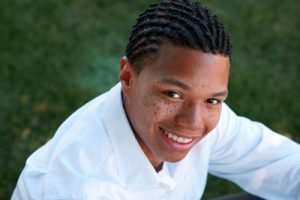 Invisalign isn't just for adults. Teens have proven to be a responsible, motivated group of dental patients. Young people know they've dodged a teenage rite of passage when they qualify for Invisalign Teen and don't have to wear metal braces. Parents, of course, will have concerns about such a major investment. Time to find out why teens and Invisalign are a stellar combination.
How does Invisalign Teen work?
Invisalign Teen uses clear aligners that custom-designed for your child's teeth and mouth. Instead of brackets, bands, wires, and more, Invisalign uses nearly invisible aligners to incrementally move your child's teeth. Each aligner puts pressure on certain teeth, gradually shifting them into their new place. Every two weeks, your teen replaces their current aligner with a new one, moving the teeth little by little.
You'll be happy to know that visits to your Woodinville Invisalign provider only need to happen about every six weeks to review your teen's progress and pick up new sets of aligners for the next round of treatment.
Is my teen responsible enough for Invisalign?
You know your teen best, but we find that many teens are excellent patients who adjust easily to a new daily routine that revolves around Invisalign wear. You may worry that your teen won't take proper care of their aligners, lose one, damage one, or wear them at all. It's understandable that you don't want your investment in braces to be a waste if your teen doesn't comply.
Some parents prefer conventional metal braces because those suckers aren't going anywhere and guarantee that your teen can't avoid their orthodontic treatment. Many parents feel better about Invisalign when they know that every aligner comes with a blue compliance indicator that will fade to show if their teen is wearing their aligners 22 hours a day, as required.
Sometimes, though, the only guarantee you need is the understanding that teens are motivated to follow the rules of Invisalign because they understand they're going to get an amazing smile at the end of their treatment, without having to endure one moment of metal mouth.
What if my teen loses an aligner?
Your teen will need to remove his aligners so he can eat, whether at lunch, at a friend's house, or at the local pizza parlor. He will probably want to do this surreptitiously and draw as little attention as possible to his task, so that might mean the aligner ends up in a napkin and accidentally gets thrown away.
The only thing to do in this case – and hopefully if it happens it will only happen once – is to contact your orthodontist to for a replacement. If you're lucky, your teen may be so close to changing to the next set of aligners that it's possible to simply move on and not worry about a replacement.
Are there any eating restrictions?
One of the very best things about Invisalign is that there are no food restrictions. Teens who have metal braces aren't allowed to eat chewy or crunchy foods that could damage their hardware. Invisalign wearers only need to remove the aligners before eating anything – now that is sweet.
Does my teen quality for Invisalign?
As with any orthodontic treatment, committing to the process is a requirement. Invisalign Teen is an exciting innovation that has saved hundreds of teens from the dreaded brace-face. Find out if your teen qualifies for invisible aligners. Contact Soleil Orthodontics today to schedule your consultation with orthodontist Dr. Soleil Roberts in Woodinville, Washington.