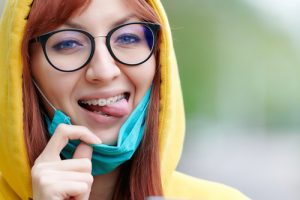 There is nothing good about COVID-19 but, if you want to find a silver lining in the chaos, this is a great time to get braces. Have you dragged your feet about investing in orthodontics because you're self-conscious about the idea of wearing braces and letting the world see your orthodontics? There will never be another time like this (we hope!) to straighten your smile on the down-low.
1. You Can Hide Behind Your Mask
If conventional metal braces are your destiny, there is no better time to get them installed on your teeth and get your orthodontic treatment underway. The chances of someone seeing your braces now are lower than ever.
Your mask will hide brackets and wires, which means you can smile all you want and feel no fear about speaking up and drawing attention to your mouth. What a gift for teens to align their teeth without any of their classmates being the wiser. What a relief for adults, especially those who don't qualify for Invisalign, to straighten their smile without feeling like an adolescent again.
2. Your Bubble Is Small Anyway
If you're isolating and social distancing as recommended, then your bubble is small and only a handful of people are seeing you regularly without your mask on. If you're being cautious, working from home, doing virtual schooling, and meeting friends via FaceTime instead of in person, you don't have to worry about anyone looking at you strangely because you're sporting braces. All this privacy and isolation is an excellent time to shape up your smile without anyone being the wiser.
3. Getting Orthodontics Has Never Been Safer
Your Woodinville orthodontist has always practiced their craft using masks, gloves, and high sanitization practices. Now all these efforts have been increased tenfold to protect you and them from COVID-19. You don't have to worry about safety at the orthodontist. In this environment, your comfort and care are paramount, and even more best practices have been implemented to keep coronavirus at bay and ensure that all patients feel comfortable about getting a more beautiful, healthy smile.
4. Braces Won't Interfere with Zoom Calls
Even if you're on Zoom calls all day long, braces will not be that noticeable. Turn on your ring light, position your camera at just the right angle, and smile away. Your face will still be front and center, but your teeth will not draw that much attention, especially if you're sporting Invisalign or ceramic braces.
Invisalign is beloved because it is the least noticeable orthodontic treatment available. The clear aligners fit snugly against teeth to shift them effectively and efficiently without drawing attention. If you must wear brackets and wires, ceramic, tooth-colored braces are the way to go to minimize the chances of braces being noticed.
What Braces Are Right for You?
If you've always wanted straight teeth but have opted to avoid braces, now is the time to get it done. When you're around others, you will be sporting a mask anyway – and they won't be any wiser about what's going on underneath. Contact Soleil Orthodontics today to schedule a consultation and build a beautiful new smile discreetly.