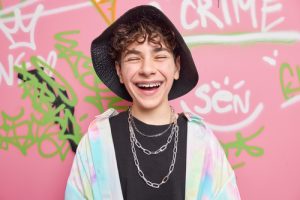 Even though braces are everywhere and nearly everyone knows someone with braces, getting this hardware on your own teeth can be daunting. Knowing some fun facts about orthodontics can make the process of wearing braces more fun, whether tween, teen, or adult.
1. You Can Be a Selfie Star
Do you love sharing your daily details and goings on with your social media followers? Getting braces is a journey your friends will enthusiastically go on with you. Take a close-up selfie of your changing smile every week or month to track the progress of your braces, highlight changes, and be sure to use strategic hashtags to improve your numbers.
2. Make the Most of Your New Accessory
If you're wearing conventional metal or clear braces, then you will also be wearing elastics with them. With a rainbow of rubber bands from which to choose, you can change your smile every time you visit your orthodontist, picking colors that are seasonal, support your favorite sports team, or just make you happy and want to smile.
3. Enjoy Ice Cream for Days
Feeling a little tender after your check-up and tightening of your brackets and wires? Your orthodontist will always green light the good stuff – ice cream, frozen yogurt, any soft and cold treats that soothe your discomfort.
4. You Have a Link With NASA
Think braces aren't cool? The nickel-titanium that some braces are made of was developed by NASA with shape memory properties. These are activated by body heat or pressure, which means braces keep their durable, flexible shape no matter how your mouth is moving or what you're eating.
5. You're in Good Company
Celebs wear braces too. Plenty of superstars have chosen to straighten their teeth instead of opting for cosmetic dentistry like veneers, they've chosen braces instead. Some of the most visible braces-wearing celebs have included Gwen Stefani, Tom Cruise, Dakota Fanning, Faith Hill, Prince Harry, Emma Watson, and Katy Perry. Invisalign wearers like Justin Bieber, Khloe Kardashian, and Katherine Heigl have been vocal about how much they loved their invisible braces.
6. You Can Wear Braces in Secret
If you opt for Invisalign treatment, you will wear nearly invisible trays that are customized to fit super-snug against your teeth. Unless you tell people you're wearing Invisalign, they'll never know it. Now that's a secret orthodontic treatment worth trying in your life.
7. You Get to Work with a Great Orthodontist Near Me
Dr. Soleil has built her orthodontic practice in Woodinville, WA, around making the experience a positive one for her patients. Braces might not be an idea of fun to many people but Dr. Soleil has changed how hundreds of people feel about their experience. What other orthodontic office can you go to where your orthodontist jumps off stools with you in celebration, has candy dispensers in the lobby, and delivers a beautiful smile for every face?
Contact Soleil Orthodontics to schedule your consultation and become part of our family of gorgeous smiles. And have a whole lot of fun.