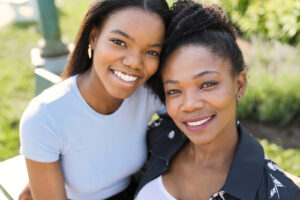 Invisalign, in general, is the same for every patient, no matter their age or alignment problem. But Invisalign Teen does have a few noticeable differences that separate it from the original, besides the fact that it's designed specifically for the adolescent crowd.
Understanding Invisalign
To understand the differences between Invisalign and Invisalign Teen, it helps to understand the treatment. Through a series of clear plastic aligners customized to the patient's mouth and specific misalignment, teeth are slowly and gently moved into order. The trays are nearly impossible to see because they are clear and very thin and hug the teeth. This is a great perk for any patient – teen or adult – who is concerned about what they would look like wearing metal braces.
Invisalign overall is a comfortable treatment. It does cause a little discomfort with each new tray that's put in, but only because new teeth are being moved – this pressure means everything is working correctly. The trays are smooth which allows the lips to slide right off them, unlike metal braces that snag the cheeks and lips.
Frequent visits to the orthodontist are unnecessary with Invisalign because several sets of trays are picked up at each visit, usually every six to eight weeks. And, of course, there's the treatment as a whole, which only takes about a year on average – half the time of conventional metal braces.
Differences Between Invisalign and Invisalign Teen
There are two main differences between Invisalign and Invisalign Teen:
Blue indicator dots: One of the biggest concerns that parents and orthodontists have is that teens will be so wrapped up in their school and personal lives that they may forget to put their aligners back in their mouth after a meal or activity. Not wearing the trays minimizes the effectiveness of the treatment, so Invisalign Teen was designed with blue indicator dots on every tray that wear away as the aligners are worn and show how often the trays were in place.
Eruption tabs: Because some teens still have teeth that have not fully erupted, each Invisalign tray is built with eruption tabs as needed. This ensures that the newly emerging teeth are absorbed right into the Invisalign treatment and aligned alongside their neighbors at the same time.
Extra trays: There are a few replacement Invisalign Teen aligners built into the treatment plan just in case of loss or damage. No one wants to need to take advantage of this perk, but it's nice to know it's there.
Is Your Child a Good Candidate for Invisalign Teen?
Both Invisalign for adults and Invisalign Teen can do nearly everything that conventional braces can do and in about half the time. The perks are the same at any age: clear trays, easy to clean teeth, freedom to eat what you want.
While many teens may be good candidates for Invisalign, that doesn't mean this is the right treatment for them. Depending on their misalignment and what the orthodontist recommends for their lifestyle and habits, there are other options to discussion. Schedule a consultation with orthodontist Dr. Soleil and her team at Soleil Orthodontics in Woodinville, WA, to learn more.