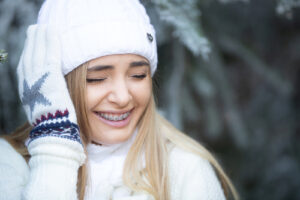 Teens can be difficult to buy gifts for at holiday time. Most of them don't want toys, and their wish list is heavy on expensive technology. If your child wear braces and you're struggling to figure out what to put in their stocking – their favorite chewy candies being off limits – consider an orthodontic theme. Here are just some stocking stuffer ideas for teens with braces.
Waterpik Flosser
A waterpik is the braces-wearer's best friend. It can be incredibly difficult to floss when you have braces, even with the floss that comes equipped with a threader, but this device is a powerful water jet that cleans food out from in between teeth and around brackets and wires. Easy to use, easy to clean, and a lifesaver for oral health, whether your teen has metal braces or Invisalign Teen.
Electric Toothbrush
Getting in between all the brackets and wires is a job for any toothbrush, but it's far easier to miss some teeth with a regular brush. An electric toothbrush does the hard work and lets your teen get in and around all the hardware with far less difficulty. There are even some electric toothbrushes that work with an app that guides them along so they don't miss any teeth as they brush.
Locker Décor
Most teens readily embrace their metal mouth. Once they get used to the feeling and living with this new part of their daily life, they might even love their new look. Help them show it off with some fun stuff for their school locker like braces-themed magnets, a framed image of their favorite character sporting braces, or a mirror so they can check out their bling.
Retainer Case
Is your teen nearing the end of their braces wearing time? Get them excited for the future with a fun retainer case that suits their aesthetic and is bright enough to never get lost. They might wear their retainer most of the time just after their braces come off, but eventually they'll be able to just wear it at night, and it will need a place live in between.
Orthodontic Wax
You can't have too much orthodontic wax in a home where there is a teen who wears braces. This invention stops an uncomfortable bracket or wire in its tracks so it doesn't brush up against lips or cheeks. It's fun for teens to have a few kinds of wax to choose from, whether plain, minty fresh, or fruit-scented. Give them options.
Lip Balm
Having braces can make your teen's lips dry. As they get adjusted to the brackets and wires on their teeth, their lips might suffer in the process. Give your teenager lip balm of all shapes and sizes so they always have what they need at the ready. You might even want a medicated kind at first if their lips are extremely dry.
Think your teen is ready for braces? Schedule a consultation at Soleil Orthodontics in Woodinville, WA, to find out what type of braces are right for them.